Products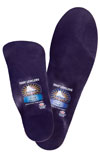 Along with the massage therapy services offered by Janice Malloy, RN, LMT at Bensalem Muscle Therapy, there are also many effective products that can be used to achieve lasting muscle, neck and back pain relief. In conjunction with massage therapy and stretches, these products can help to provide a healthy and active lifestyle, free from restrictions caused by muscle pain.
Available Products For Pain Relief
Trevinol- Trevinol helps aid in flexibility and movement, the support of healthy joints, blood flow and circulation, as well as sports injury recovery and much more. For more information on Trevinol, visit their website at, www.trevinol.com. Or, feel free to contact Bensalem Muscle Therapy to purchase your own supply today.
Spinal Pelvic Stabilizers- If you are suffering from spinal problems or discomfort, Spinal Pelvic Stabilizers may be able to help. Custom-made for each person's distinct needs, Spinal Pelvic Stabilizers help to support and stabilize the imbalances in your feet that can cause spinal pain and problems. Bensalem Muscle Therapy offers FREE digital foot scans (not X-rays) to show whether or not your arches are properly supporting your body. If not, they may be a contributing factor to your painful condition.
Custom-Blended Essential Oil Products for pain relief and other symptoms
As a Certified Aromatherapist, Janice also makes custom blends of essential oils for various symptoms including painful conditions, allergy and sinus concerns, headaches (including migrainres), muscle spasms, and many others.
Call For Muscle, Neck & Back Pain Relief
To learn more about these products or massage therapy options, please contact Bensalem Muscle Therapy today. The therapist will provide you with the expert advice you need to select the product that will work best for your unique situation. Proudly serving the Bucks County, Bensalem and Newtown, PA areas, Bensalem Muscle Therapy is able to quickly help you discover the benefits of effective massage therapy techniques for neck, muscle and back pain relief. Call today to receive your FREE consultation, 215-244-1999.
More Information
To receive more information about Bensalem Muscle Therapy, please fill out the form below.
Recent Testimonial
"I started Kinetic Chain release
(KCR) with Bensalem Muscle Therapy several months ago due to IT band discomfort from uneven leg length. Since utilizing this technique, my leg lengths are now even, the pain in my left flank is gone and my insomnia from burning IT bands has disappeared since the discomfort is mild or nil. I would highly recommend this therapeutic intervention for those with hip discomfort, leg length imbalance and other joint/ body ache discomfort from scar tissue tightening and fascia thickening. You too may find relief in 2-3 sessions."
— K.K., Warrington, PA